Salicylic acid and niacinamide are two wildly beneficial skincare ingredients.  It would be great to get them established in your skincare routine together.  If you get them both in a single skincare product, that sounds convenient. But to get the most benefits out of these powerhouse ingredients, it's best to use them separately and in the proper concentrations. In this article I will go through:
What are Salicylic acid and Niacinamide and what do they do?
Should you get them together in one product?
Salicylic acid and Niacinamide – what if you apply the 2 products together?
Your options to fit both of these ingredients in your skincare routine
Here are the products mentioned in further details later
What are Salicylic Acid and Niacinamide
Niacinamide (Vitamin B3)
Niacinamide has gained a lot of popularity in the skincare world, becoming a very popular ingredient among skincare enthusiasts. It is a water-soluble vitamin that can be found in kale, almonds, and many other foods.
---
More from Glowing Gorgeous:
Find out
here the Best Silicone-Free Moisturizers And Why Do You Care
---
Topical niacinamide is a powerful ingredient that's often found in various creams and serums. Niacinamide is not the same as AHAs (alpha hydroxy acid) or BHAs (beta hydroxy acid). Rather, it is gentler than both.
Niacinamide has several proven benefits:
Anti-aging and skin brightening. Niacinamide helps support healthy collagen production and reduce pore size as well as the appearance of wrinkles.

Studies have shown that niacinamide works effectively on the appearance of pores and fine lines and keeps the skin barrier intact, limiting dryness and irritation. As a result, your skin is well hydrated and retains its moisture for long periods of time, which keeps it supple and soft.
Niacinamide plays a vital role in producing energy for our cells. The niacin that we can get from foods such as eggs, liver, nuts, and multivitamins is transformed into niacinamide in our cells. These two essential compounds assist with cellular metabolism, DNA repair, and cell turnover.
Niacinamide protects our skin from outside aggressors and boosts collagen to keep it healthy. Clinical research supports niacinamide usage and confirms its efficacy.
Niacinamide can minimize the uneven tone of the skin and improve skin texture by evening it out.

It reduces sebum secretion rates

Niacinamide will hydrate the skin sufficiently, so your skin doesn't need to over-compensate and produce even more oil.  A 2006 study on niacinamide showed that after four weeks, participants experienced a reduction to their sebum production. In addition to its great benefits for people suffering from acne, the results showed that B3 can also help balance oily, dry, and normal skin.

Niacinamide's comedolytic properties help to inhibit the formation of comedones (blackheads) which helps to improve the skin's superficial structure.
Wow, by now you can see niacinamide is a pretty wonderful all-in-one ingredient that helps numerous skincare concerns. It treats pigmentation, wrinkles, acne, oily skin, large pores, redness, dryness, sallowness, and a weakened skin barrier.
I should not forget to say it can also act as an anti-inflammatory agent as well as a soothing emollient. It is great for soothing redness from sunburns. The B3 vitamin is a superstar for calming inflammation. Niacinamide reduces inflammation in moderate acne and is nearly strong enough to be prescribed for serious breakouts.
Therefore it's an exceptional all-rounder. It has been proven to be effective and is suitable for almost all skin types. Niacinamide generally has no side effects and is well tolerated. Niacinamide is so easy on the skin that it can be used by all skin types.
But in particular for acne-prone skin, niacinamide's anti-inflammatory, antibacterial, and sebum reducing properties all work together to help with acne. Niacinamide helps reduce skin redness, stop blemishes from forming, and improves skin repair. The antibacterial property of niacinamide protects the barrier of the skin against infection, as well as prevents bacteria that cause acne from multiplying rapidly.
Dermatologists often recommend it over prescription acne medications due to its effectiveness in cell turnover and skin conditions. Though typically used as part of creams and serums, it can also improve your skin when synthetically applied topically.
Salicylic acid
What people refer to as chemical exfoliants include glycolic acid and lactic acid (AHA) and salicylic acid (BHA), which exfoliate the surface of the skin, to reveal fresh new skin cells underneath.  It improves the appearance of dull, uneven skin tone, and improves skin texture.
The one we are interested in here is salicylic acid, which is found naturally in fruits, vegetables, and willow bark.
Salicylic acid clears your skin. It also reduces inflammation and exfoliates deeply into pores. This keratolytic agent helps remove dirt and oil from pores by loosening them up. This keeps pores clear of gunk and prevents them from becoming clogged in the first place. It can dissolve clogged pores known as keratosis pilaris.
Unlike other acidic ingredients, salicylic acid has a structure that makes it more oil-soluble. For oily, acne-prone skin, salicylic acid is a real star. This acid increases the moisture content in the skin and dissolves the "glue" that joins pre-existing cells.
---
More from Glowing Gorgeous:
Find out
here Hyram's Recommended Face Sunscreens For The Summer
---
Salicylic acid can also regulate skin cells to efficiently fight blemishes and acne.  It can access the sebaceous gland and decrease sebum production. Not only does this make pores cleaner, but it also has anti-bacterial properties that help clear up existing breakouts.
Keratolytic agents are extremely effective at reducing the pH level of the skin. This means that they can reduce dryness and flaking and promote hydration too.
Therefore, salicylic acid is great for blemish-prone skin types. Although it is good for all skin types, it is most helpful for those with comedonal acne: blackheads and whiteheads.
If you have an aspirin allergy, you should avoid products containing salicylic acid. It is from the same family of compounds as aspirin and thus may cause a reaction.
Start with a low concentration of salicylic acid on your skin until you are confident that you can handle it. Then add soothing ingredients to lessen any irritation that may be caused by salicylic acid.
Salicylic acid vs Niacinamide
That's a long list of information on each, yet how exactly are they different and why do you want both? Well, they actually achieve similar goals in slightly different ways.
Salicylic acid does not hydrate the skin whereas niacinamide does. While salicylic acid may improve the performance of a moisturizer, it cannot hydrate on its own. Despite this fact, both ingredients can be used together in a skincare routine since they work well together. Both of these, along with other ingredients such as Ascorbic Acid (Vitamin C), are top Ingredients for getting glowing and even skin tone.
Can I Use Niacinamide with Salicylic Acid in One Product?
So, it sounds like pairing niacinamide and salicylic acid together can form a winning duo.
Niacinamide works to reduce inflammation caused by acne breakouts — and salicylic acid targets their appearance. Both products fight acne well. Combining these two ingredients can have a notable positive effect on the skin.
Salicylic acid is a powerful ingredient that tackles clogged pores. With niacinamide, it calms irritated skin without drying it out. The two should be used together to target acne, especially blackheads and whiteheads.
Whare about pores? They work on that too. Enlarged pores are due to 2 reasons: high sebum levels and a lack of collagen and elasticity. It's proven that using salicylic acid and niacinamide in topical combinations can tackle both and significantly reduce surface sebum levels and pore size after 12 weeks.
With all these benefits, you can find several products in the market that include both niacinamide as well as salicylic acid in one product.

These are generally good products but likely you will not be getting a concentrated enough intensity of niacinamide to get what you want out of it. For example, the COSRX one that actually labels its concentration, has niacinamide at 2%.
To get the real benefits of niacinamide, you want to find a niacinamide product with at least 4% to 5% concentration. 4% to 5% concentrations are frequently used in clinical studies to prove the effectiveness of niacinamide.
Using Niacinamide and Salicylic Acid Products Together
Now that we established we love the benefits of both niacinamide and salicylic acid, so how about we get them from separate products (with at least 4% or 5% niacinamide) and layer them one on top of the other? Unfortunately, that will not give us a good result.
Mixing salicylic acid (pH between 3.0 and 4.0) with niacinamide (around 5.0 to 7.0) will result in an increase of the pH level for the acid. That means it's going to make the salicylic acid less effective than it's intended to be.
On the other hand, niacinamide works best when the pH is neutral. When we mix niacinamide and acidic substances, it can cause redness and flushing. That's because the acidic salicylic acid lowers the pH of the niacinamide, which triggers a chemical process that transforms it into niacin. A niacin flush may be temporary and harmless, but it can be super alarming and annoying to experience.
Options to fit both salicylic acid and Niacinamide in your skincare routine
Fitting both wonderful ingredients into your skincare routine can still be done but care must be taken to not apply these 2 at the same time.
1. Niacinamide in the morning and salicylic acid at night
If you have a busy morning routine in the morning, an easy way to incorporate both niacinamide and salicylic acid is by using them at separate times of the day. Non-acidic niacinamide can be used underneath hydrating serums, moisturizers, and sunscreens without having to wait, so it makes sense to use that in the morning.
Nighttime is a great time to use salicylic acid. Your skin is naturally more acidic at night while you sleep. In addition, acids need some time to work optimally and open pores. Applying salicylic acid at night, when you have more time between skincare steps is a good idea. If you have other products that need to be applied afterward, you'll want to allow time between each application.
2. Use them on alternate days
Another option is to alternate niacinamide and salicylic acid. You can apply niacinamide one day and then salicylic acid the next. It isn't necessary to use both ingredients together every night.
Again, one quick note on this. If you are using products that have a high pH level, sometimes found in certain cleansers and toners, you may need to separate those from acids or other exfoliating products.
3. Wait 30 Minutes between the two products
If you prefer to apply niacinamide and salicylic acid at the same time, wait at least 30 minutes after using salicylic acid before putting on the niacinamide. That should give it enough time so both products can work at their intended pH level.
When layering skincare products, always go from lowest to highest pH. Start with the salicylic acid after cleansing, wait 30 minutes, then apply niacinamide. After that then you can apply moisturizers and sunscreen.
Is Niacinamide an Acid?
No, niacinamide, often found in skincare products, is not an acid. It's a form of vitamin B3, an essential nutrient that supports many cellular processes. Unlike some acids used in skincare, niacinamide doesn't exfoliate or peel the skin. Instead, it boosts hydration, reduces signs of aging, and calms redness and inflammation. When used with salicylic acid, a beta hydroxy acid that exfoliates the skin and unclogs pores, niacinamide can help balance the skin and improve its overall health and appearance.
Final Take
If you are wondering if you can incorporate both niacinamide and salicylic acid into your skincare routine, the answer is a resounding yes. If you are suffering from acne, oiliness, and hyperpigmentation, then niacinamide and salicylic acid are the two ingredients that you really want to fit into your skincare routine. You just have to know how to apply them properly.
These are our best niacinamide serum and salicylic acid recommendations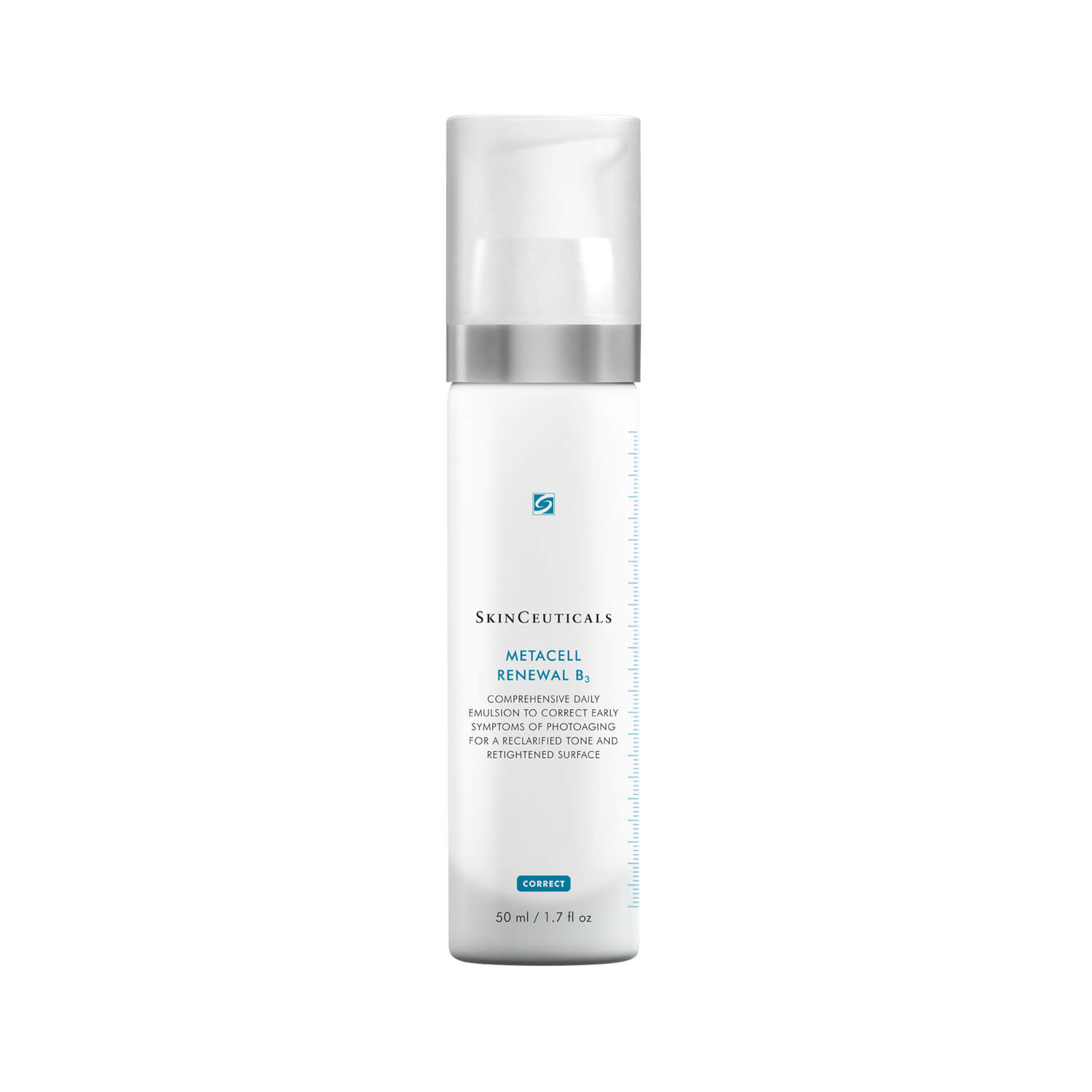 SkinCeuticals Metacell Renewal B3 at SkinStore
This SkinCeuticals formula combines
5% niacinamide,
glycerin
, and tripeptide concentrate to help correct the early symptoms of photoaging.  We now know Niacinamide is high in antioxidants and effectively reduces the appearance of dark spots and discoloration. Tripeptide concentrate supports collagen production and fights against free radicals that accelerate cellular damage. Glycerin's humectant properties keep moisture on the skin and release it slowly over time to prevent dryness.
Resolves the appearance of fine lines and wrinkles.
It evens skin tone and improves its texture.
Provides a smooth, refreshed finish.
Paula's Choice Skin Perfecting 2% BHA Liquid Exfoliant is a gentle exfoliator that is non-abrasive and can be left on the skin. It has 2% Salicylic Acid to unclog, diminish pores, smooth wrinkles, brighten, and even out skin tone for radiant, youthful, even-toned skin.  It is an exfoliator that will dramatically improve your skin's texture.
This Paula's Choice 10% Niacinamide Booster is a powerful solution combining Vitamin B3 with antioxidants and skin-replenishing plant extracts. This product promotes bright skin, reduces aging signs, hides enlarged pores, balances skin tone and moisture levels, and so much more.
A note on the Ordinary Salicylic acid 2% solution. That would've been on this list except they've pulled it from the market and according to Deciem, they are currently in the process of updating the formulation of this 2% salicylic acid. The Ordinary salicylic acid was loved by many people in the skincare community so this is unfortunate. Otherwise, the Ordinary salicylic acid and niacinamide together would have worked wonderfully too.
The key to a successful skincare routine is knowing how and when to use each product. This way, you can really harness the full potential of each product and get the most out of them. I hope this article gave you some good information. Please share with me your results!
Questions and Answers:
Can you use niacinamide and salicylic acid together?
Yes, niacinamide and salicylic acid work really well together. You just have to apply them in the right order.
Can you use niacinamide and zinc with salicylic acid?
Niacinamide and zinc are fantastic for oily skin, and they love to party with salicylic acid. When used together, these three ingredients can make a great combination for acne-prone skin.
Which is better salicylic acid or niacinamide?
They are both excellent but in different ways. Salicylic acid helps clear away dry skin and unclog pores. It breaks down oil and can be applied directly to oily areas of the skin. On the other hand, niacinamide is hydrating and replenishing. It renews the outer layer of skin making it look younger and healthier. Each works differently, yet both are great.
Should you use niacinamide or salicylic acid first?
You should begin with salicylic acid, immediately after cleansing your skin. Then wait 30 minutes after application before applying niacinamide. This allows your skin to return to a pH level of 5.5 or higher, which is ideal for niacinamide use.
Can you use niacinamide every day?
Niacinamide can be used even twice a day every day. The good news is that it doesn't cause skin irritation, so you can use it all year round.
Can you use niacinamide with retinol together?
This mild form of vitamin B3 is tolerated well by most people. Niacinamide and retinol can be used together in the same skincare routine.
Can you use niacinamide and vitamin C together?
Niacinamide can affect the integrity of vitamin C skincare products. It's best to alternate its use with any topical vitamin C product on different days of your skincare routine.
When are these 2 ingredients not for you?
If you have dry, eczema-prone, or sensitive skin, salicylic acid may not work for you as it can be harsh and cause irritation. One of the most common side effects is dryness, burning, and redness of the skin when you first start using the acid, but this usually subsides with time.
Salicylic acid makes your skin more sensitive to the sun. Avoid spending too much time in the sun, and wear SPF-rated hats if you go outside.
Once again, if you have an aspirin allergy, you should avoid products containing salicylic acid.
Niacinamide is a gentler alternative to salicylic acid, but it can still cause redness or mild burning. The ingredient is safe for all skin types when used in concentrations up to 5%. Otherwise, there is a risk of flushing.